I've self-diagnosed myself with an afflic­tion that has yet to show up in the DSM. I'm call­ing it obsessive-compulsive book­mark­ing dis­or­der, and it may be my downfall.
I first exper­i­mented with book­mark­ing out­side of my browser with Deli­cious, and I still con­tend that for recipe book­mark­ing, Deli­cious can't be beat. But I dreamed of a visual com­po­nent, so I started play­ing around with Kaboo­dle, which I've always liked, par­tic­u­larly for shop­ping and com­par­ing pur­poses, but never loved. Ever­note had my heart for a while, but I never felt like it excelled at the visual ele­ment, par­tic­u­larly when I clipped images from house tours. So it was with some trep­i­da­tion that I started with Pin­ter­est.
Fast for­ward a few weeks, and I am so sold on Pin­ter­est that I attended a Pin­ter­est party (hey, that's me in the sec­ond to last photo!) last week. I acted beyond nerdy when I met Piner­est founder Ben. (Sorry, Ben.) I say on a daily basis, "Know what I saw on Pin­ter­est?" I evan­ge­lize. (Pin­ter­est should really be pay­ing me.)
So I've been pin­ning nurs­ery ideas. Here's a screen­shot of where we are today: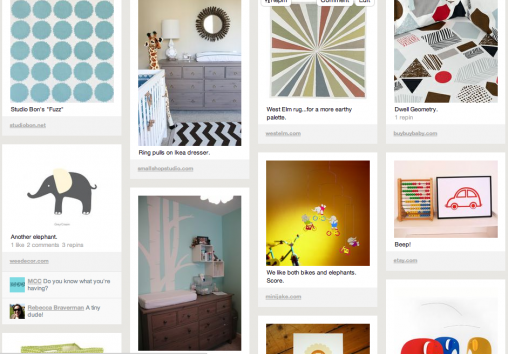 Thus far, we have two pieces of yet-to-be-assembled fur­ni­ture and lit­tle else. I'm not really into themes, though I have had a strong lean­ing towards ele­phants since find­ing out about baby. Hence all the damn elephants.
The problem—and it's not really a problem—is that on a weekly basis, I start second-guessing myself. I stum­bled across a post ear­lier from Sarah Farris-Gilbert where I was tick­led to find that she mocked up five nurs­ery designs for herself—and she does this for a liv­ing, peo­ple. So let's blame preg­nancy for fear of dec­o­rat­ing commitment—and my daily 2am bath­room breaks.