Problem-solving is not my strong suit this week. We are pon­der­ing mov­ing (nearby, not across the coun­try again), which has put a screech­ing halt to nurs­ery plan­ning, or at least nurs­ery paint­ing. This itch to nest and dec­o­rate has man­i­fested itself as a deep desire to get rid of things. Up for pos­si­ble dis­card is a full set of the much-loved Domino mag­a­zines.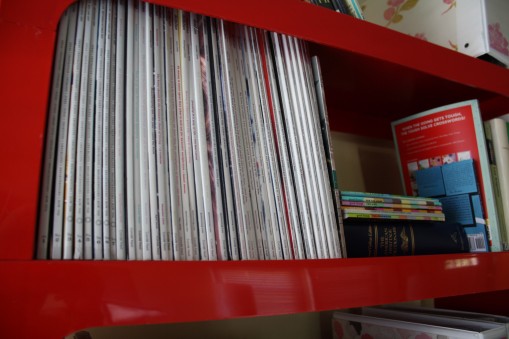 (This shelf is part of a big­ger Olaf von Bohr for Kartell unit that used to hold my toys. Some­one gave it to my par­ents and occa­sion­ally I see it in over­priced vin­tage stores or on 1stDibs. If I ever sell it, please check me into a men­tal hospital.)
But how could you part with your Domino collection?
Sorry, maybe you're not actu­ally say­ing that. Maybe it's just one of the voices in my head. I'm not pulling these down for ref­er­ence on a daily or even weekly basis. In fact, I'm not sure if they've moved off the shelves since I unpacked our boxes from Florida. A quick search on ebay showed me that a com­plete set recently went for a lit­tle more than $300. And $300 would buy a lot of dia­pers. Or a posh dia­per bag. Whatever.
So, dilemma #1: do I sell off the Domino collection?
This could help fund dilemma #2: the nurs­ery. In an effort to shame myself into mak­ing some seri­ous head­way in this room, I will show you the cur­rent state of affairs.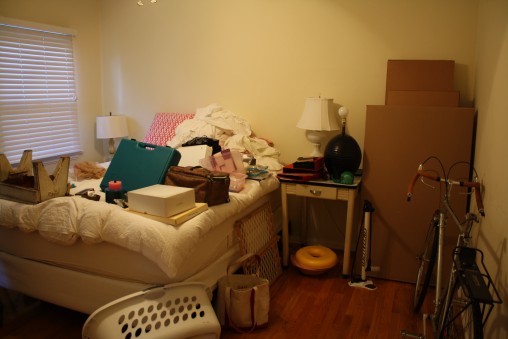 Items of note: that black lamp is from a Brick House sale that I couldn't attend but Ryan did, because he is a cham­pion hus­band. And below that is a donut cush­ion, because I am a senior cit­i­zen now. There's also a sil­ver Cen­tu­rion you might be inter­ested in. And a baby gate that is Harry's mor­tal enemy. Harry loves this room, mostly because it's where my mom sleeps when she vis­its, and there is no per­son Harry loves more than my mom. He merely tol­er­ates our exis­tence between her vis­its. Here he is now, won­der­ing when he will get to see her again.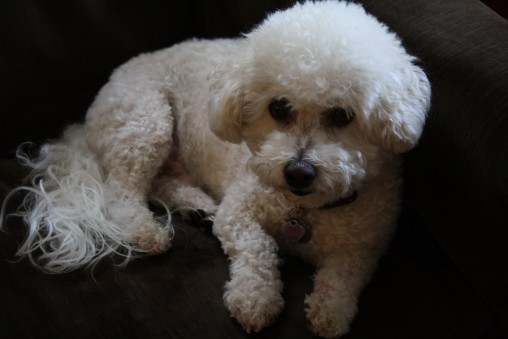 Soon, Harry. Very soon. Speak­ing of my mom, she has been a one woman sweat­shop of late, churn­ing out baby cute­ness like it's her job. Here's my favorite of her creations.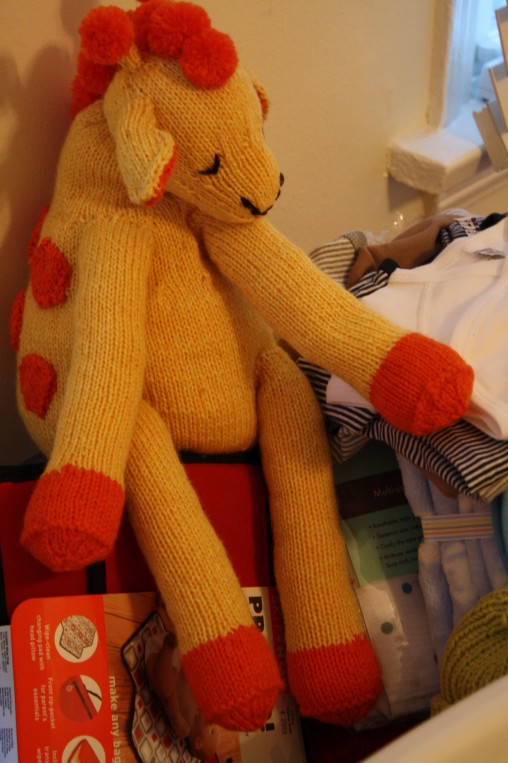 Why yes, that is a hand­knit giraffe with pom-pom trim. Don't you want to snug­gle him? (Don't worry, I visit him fre­quently and give him hugs.)
More thoughts on the nurs­ery com­ing soon. In the mean­time, feel free to advise me on my mag­a­zine hoard­ing or tell me to get crack­ing on giv­ing this baby a place to sleep. He's com­ing in six weeks, nurs­ery or not!